About Artistic Rollersports
Artistic Roller Skating incorporates several disciplines – figures, freeskating, dance, quartets, precision and show skate.   Skaters of all ages can take an active part in the sport, finding any number of challenges to inspire them to reach their individual goals – from a beginner class to world-class championship competition. It is superb exercise giving the skaters a wonderful sense of movement/freedom while mastering the various disciplines.   Skaters choose which disciplines they wish to learn. An added bonus is the lifelong friendships which skaters make while enjoying their sport.
FIGURES

Figures is a discipline for the young and the old.   It involves intricate turns and shapes whilst tracing a circle or loop shape marked on the skating surface. Figure skating, considered the basis of all skating, teaches balance, control, and discipline.
FREESKATING
Images by Auckland Sports Photography
This is perhaps the most exciting and athletic of the disciplines.
Singles Freeskating demands creativity, technical agility, and virtuosity. The objective is for skaters to blend the necessary ingredients of singles skating – jumps, spins, and footwork – into a routine choreographed to music to create a performance that embraces both sport and art.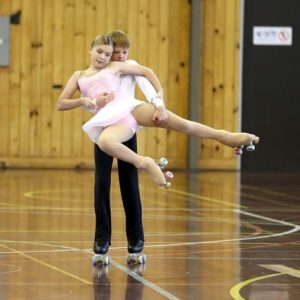 Images by Auckland Sports Photography 
Pairs Freeskating combines all of the difficulty of singles skating with the complexity of adding a partner. Harmony is the key to pairs skating, with partners mirroring each other as they move through their program.   They execute simultaneous spins, jumps and footwork interspersed with exciting lifts.
DANCE SKATING
Images by Auckland Sports Photography
This is a beautiful and exciting discipline. In Compulsory dance skating, each team or individual skates to prescribed patterns and rhythms and the dancer(s) are required to perform with excellent timing, good posture, accurate steps, and musical expression.
Additionally, the dancer(s) may perform a Creative Solo Dance (CSD), a Freedance or Style Dance. For these the skaters may choose their own music and choreograph a dance to suit.  
PRECISION TEAM SKATING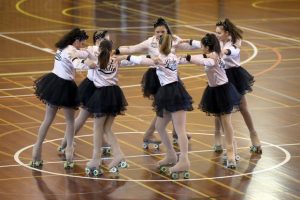 This is a fun discipline where a group of skaters all work together as a unit to music. The emphasis, however, is on enjoyment and participation. Precision skating is fun to do and fun to watch. Its rules are flexible enough to allow lots of original ideas and innovations. Images by Auckland Sports Photography
QUARTETS

Are made up of four skaters acting as a group. It is an exciting and fun discipline for the skaters, appealing to the audience through the choreography, jumps, spins and footwork in a theme matching the title of the show piece.   Props may be used. Images by Auckland Sports Photography
SHOW TEAM SKATING

The Show Team Skating is similar to Precision Team Skating but the main performance of a show group must be "Show", not "Precision".  Props or accessories may be used within a show group.
Images by Raniero Corbelletti